TECHNICAL PROJECT LEAD
Oğuz Sunay, ONF
Aether™ is the first open source Enterprise 5G/LTE Edge-Cloud-as-a-Service platform (ECaaS).
It provides mobile connectivity and edge cloud services for distributed enterprise networks, all provisioned and managed from a centralized cloud. Aether is an open source platform optimized for multi-cloud deployments, and it simultaneously supports wireless devices over licensed, unlicensed and lightly-licensed (CBRS) spectrum.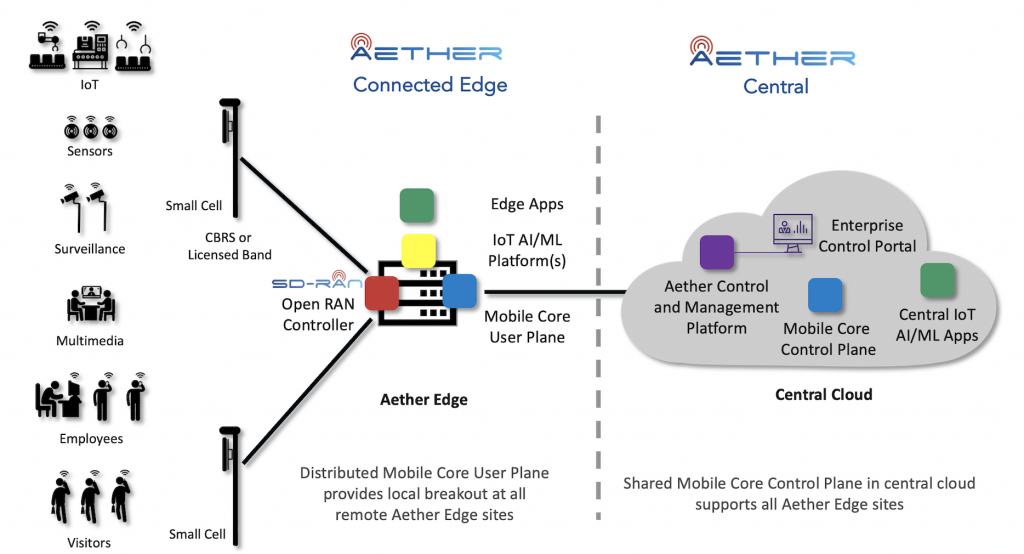 Operational Aether Beta Network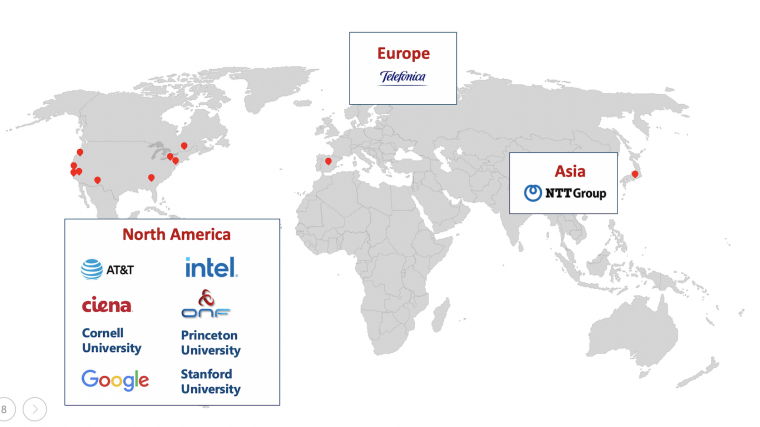 An Aether beta network is operational connecting multiple edge clouds at two ONF offices, Intel Labs and additional sites. The beta is centrally managed and controlled from the Google Cloud, with Aether Connected Edge installations at each of these sites. Operations continue to be scaled, with the addition of edge locations, more variety and quantity of connected devices – including IoT end points and gateways, as well as enterprise class services. The entire deployment is maintained by a CI/CD devops development pipeline where bug fixes and features are automatically deployed frequently without disruption.
Aether Architecture
Aether leverages and builds upon ONF's open source curated and production hardened platforms. It creates an ECaaS enabling mobile connectivity and edge cloud capabilities managed from the public cloud. Aether can support mobility and edge services across a multi-site footprint as an elastic and scalable cloud service, simplifying deployment. Management is centralized in the cloud providing enterprise-wide visibility and a centralized dashboard for management.
The key elements of Aether's architecture are:
Aether Control and Management Platform: Modules that provide control and orchestration of multiple Kubernetes clusters at different locations, management of runtime Aether workflows for adding new subscribers, new base stations, new edge clusters, new mobile core user planes to the operational network, monitoring tools and XOS – ONF's service mesh for connectivity VNFs.
Connectivity-as-a-Service: OMEC control plane on a separate Kubernetes cluster, provides Connectivity-as-a-Service and is controlled by the Aether Control and Management Platform.
Aether Connected Edge and Small Cells: Aether Connected Edge is a micro data center composed of a leaf-spine fabric and servers managing multiple small cells for coverage and end-user device density.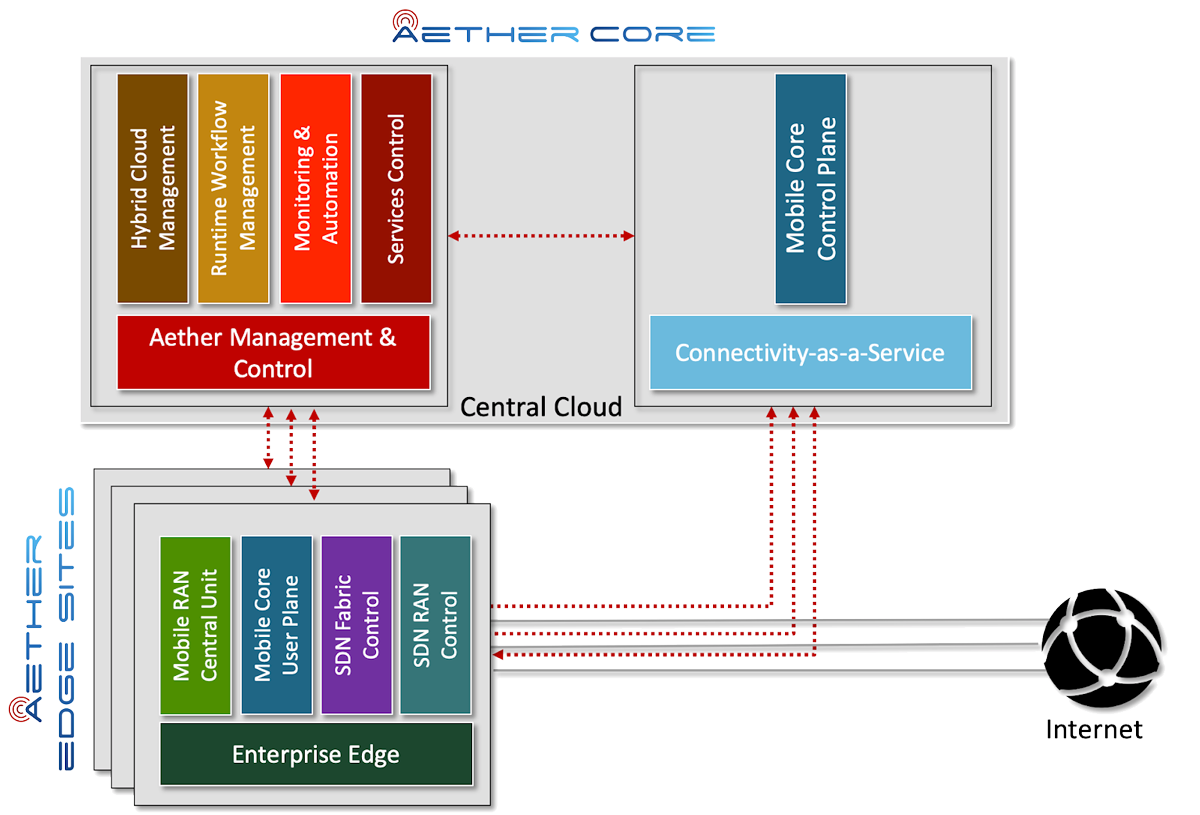 WiFi Alone Isn't Enough
Today's WiFi networks lack the reliability, predictability, low latency and security necessary for the escalating enterprise deployments of Internet-of-Things (IoT) devices and mission critical applications. Mobile networks are superior in all these dimensions, but historically they have been expensive, complicated, and out of reach for the vast majority of enterprises to operate their own network. Aether eliminates the costs and complexities of deploying private mobile networks.
Supporting any licensed or unlicensed spectrum
Aether has the flexibility to be deployed utilizing a mix of any licensed or unlicensed spectrum. New types of spectrum have just recently become available for private networks, including the CBRS-band in the United States. Dedicated low priced licensed bands for enterprise use have also been released in Germany, United Kingdom, Sweden, Hong Kong and Australia, with more countries set to follow. This release of unlicensed and lightly licensed spectrum is making private mobile networks a viable option for enterprises and innovative operators.
Come join the Aether community
ONF members are invited to participate, collaborate and adopt this exciting new open source endeavor. The community can help you launch an edge site to join the beta network, you can develop new enterprise applications on Aether, and there is opportunity to work with the community to help extend the Aether platform.
This project is licensed under the ONF Member-Only Software License.  Only ONF members in good standing are allowed access to the project repositories.  If you wish to be granted access to the repository, please contact membership@opennetworking.org. This project is in the "Incubation Phase" as defined in the license.
To learn more about Aether and join the Aether team, please join the Aether mailing list.