Reference Designs
Reference Designs (RDs) represent a particular assembly of components that are required to build a deployable platform. They are "blueprints" developed by ONF's Operator members to address specific use cases for the emerging edge cloud.
ONF's operator leadership expanded ONF's mission to create a new strategic plan to deploy open source solutions into their production networks. By committing to take open source solutions into production, ONF's operator members are enabling a new supply chain ecosystem to help realize the full potential of SDN, disaggregation and open source.
RDs are the vehicles to describe how a collection of projects can be assembled into a platform to address specific needs of operators. By defining RDs, ONF's operator members are showing the industry the path forward to solutions they plan to procure and deploy.
Each RD is backed by specific Operator partner(s) who plan to deploy these designs into their production networks and will include participation from invited supply chain partners sharing the vision and demonstrating active investment in building open source solutions. The
RD thus enables a set of committed partners to work on the specification and a related open source platform.
Assembling the set of selected components defined by the RDs into a platform enables a proof-of-concept to allow the test and trial of the design. These platforms are called Exemplar Platforms and each of them will be based on a Reference Design and will serve as reference implementations. These platforms are designed to make it easy to download, modify, trial and deploy an operational instantiation and thereby speed up adoption and deployment.
Reference Designs are now available for membership review and can be accessed here.
Reference Designs Provide Clear Path to Deployment and Monetization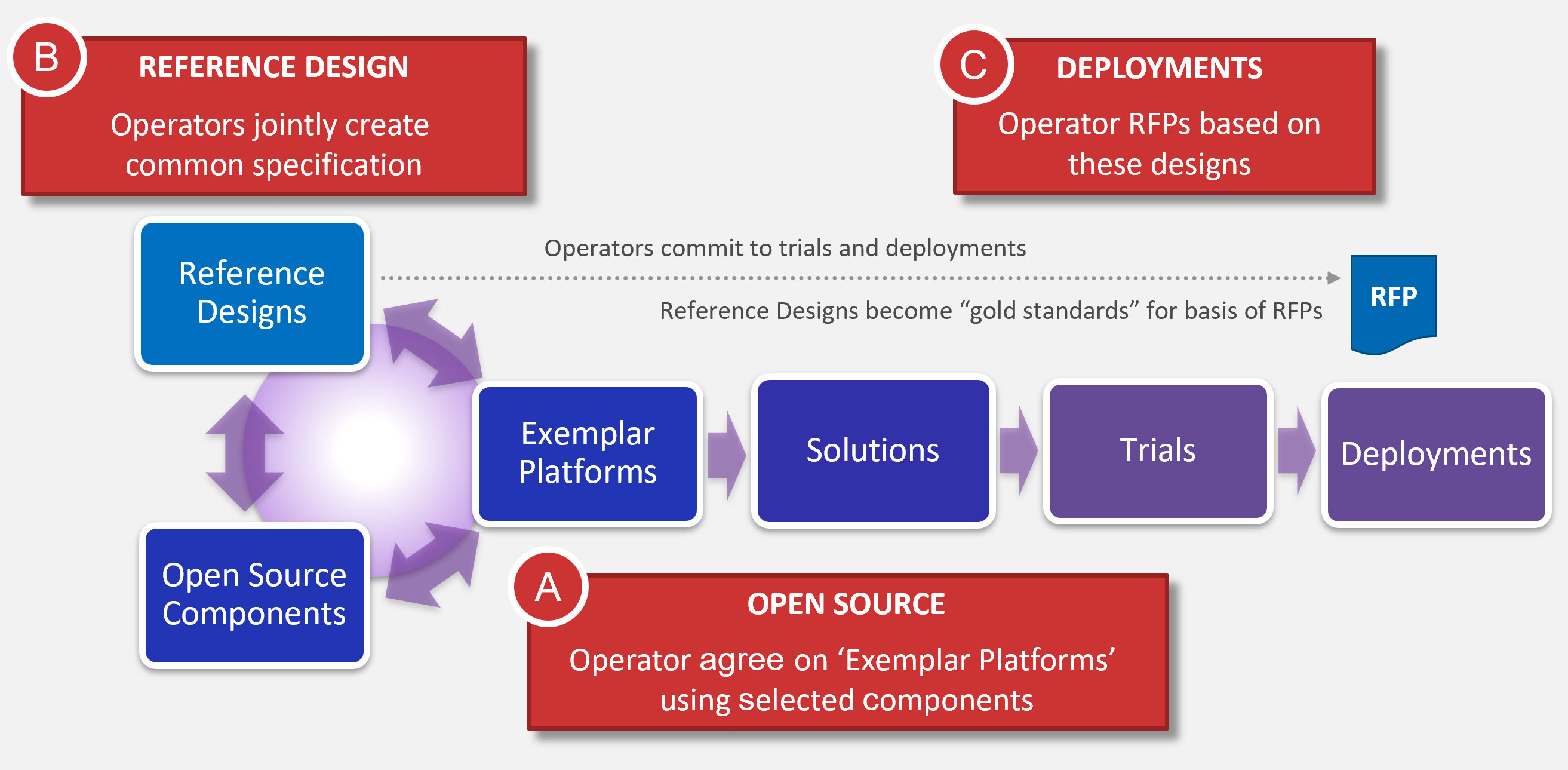 Each Reference Design is paired with an open source Exemplar Platform (EP). These advance in parallel in order to circumvent the historical tendency to draft standards in isolation from working software.