Mobile networks use a tremendous amount of energy, with tier 1 operators often spending upwards of $1B USD on power each year to operator their mobile networks. And energy costs are growing as a result of exponential traffic growth and new 5G services, with each 5G site requiring two to three times more power than its 4G-equivalent. This is creating significant economic challenges for operators, and a massive social impact challenges as mobile networks are consuming as much energy as the aviation industry.
ONF's Sustainable Mobile and RAN Transformation 5G (SMaRT-5G) project is a collaborative effort to build a RAN platform and PoC demonstrating various techniques to address the significant challenges related to energy efficiency facing 5G mobile operators. SMaRT-5G is creating an exemplar end-to-end open source platform with applications and APIs defined to enable software-defined control of dynamic energy management. Existing open source will be leveraged as the foundation for building SMaRT 5G, including SD-RAN, SD-Core, Aether, ONAP and contributions from the O-RAN software community.
This initiative is phased as a series of PoCs designed to enable MNOs to start using the results from each PoC with both open RAN and traditional RAN architectures, thus supporting both brownfield and greenfield networks and providing the fastest possible route to impact.
Specifically, the following energy management strategies are being considered:
Cell on/off – both macro cell overlays and small cells
RF channel/MIMO turn on/off
Advanced sleep modes (ASM) where various subcomponents of the baseband unit and the radio head to be turned on/off
RAN/Core cloud resource scale in/out
CPU power management
ONF is incubating the SMaRT-5G ecosystem with a select group of ONF members. To learn more, please
complete the form.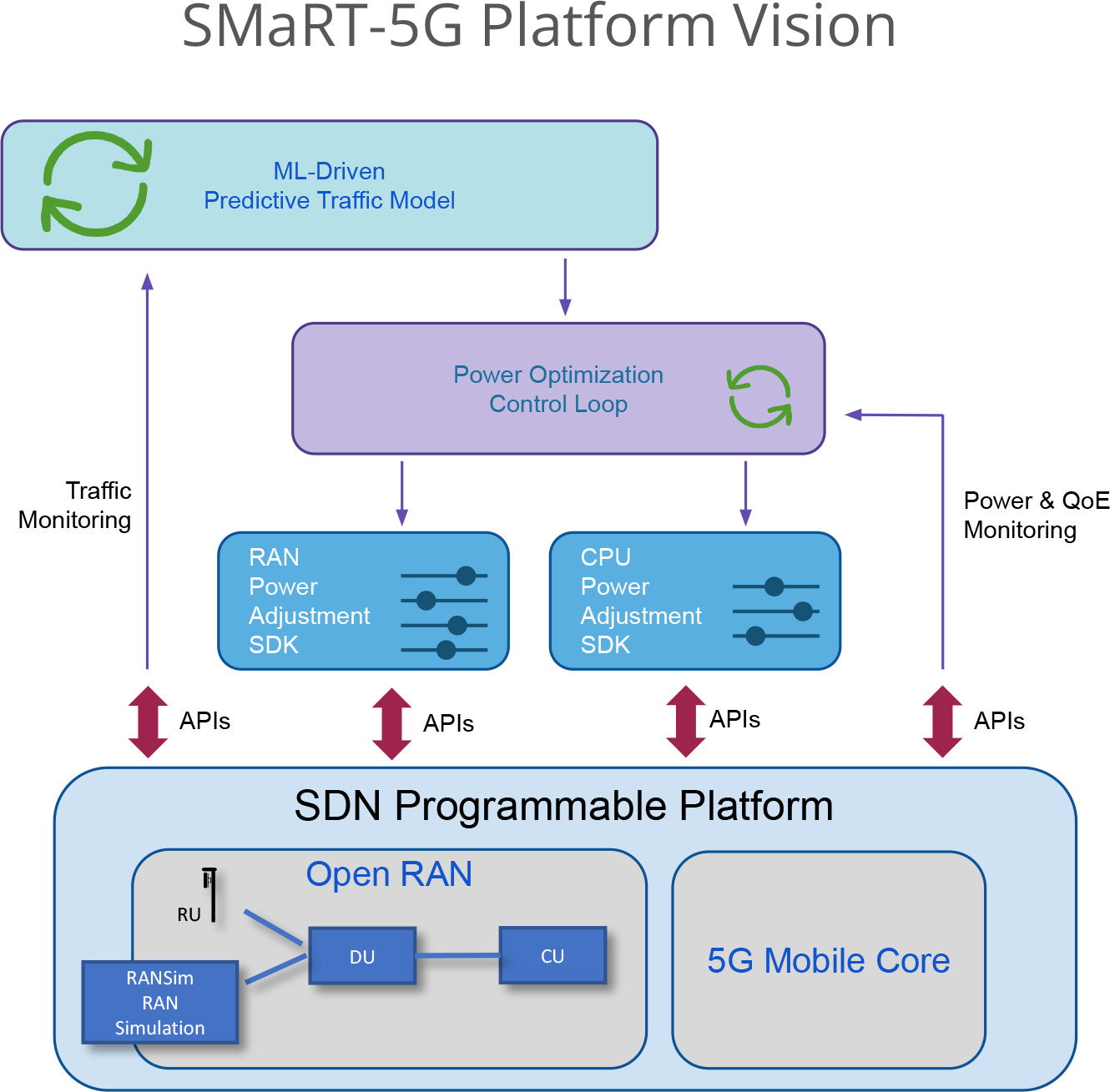 SMaRT-5G Visionary White Paper