2023 P4 Workshop
Apr 24, 2023 to Apr 25, 2023 | 2200 Mission College Blvd., Santa Clara, CA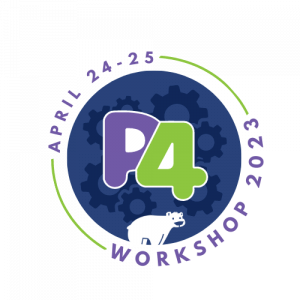 The 2023 P4 Workshop will take place at Intel headquarters in Santa Clara, CA. Note there is no on-site registration. View the map for location of the building and room for the event each day.
The P4 Workshop is an opportunity for the P4 ecosystem to share knowledge and experiences with the broader community and to facilitate collaboration. The workshop will incorporate insights and perspectives from the P4 community in the following key areas:
P4 language
P4 targets
P4 tool chain
P4 use cases & applications
Control plane or network OS for P4 targets
Extensions to P4
Cross-cutting work between P4 and related systems such as eBPF and service meshes.
Keynotes
Nick McKeown, P4 Co-founder and Evangelist
Krishna Doddapaneni, Corporate Vice President, AMD Pensando
Parveen Patel, Google Cloud, Senior Director Engineering, Google Cloud
Ang Chen, Assistant Professor Computer Science, Rice University
Arvind Krishnamurthy, Short-Dooley Professor, Paul G. Allen School of Computer Science & Engineering, University of Washington
Rob Sherwood, Chief Technology Officer, NEX Cloud Networking Group, Intel
Workshop General Chair - Larry Peterson, ONF
Program Chair - Mina Tahmasbi Arashloo, University of Waterloo
Program Committee
Mario Baldi, AMD
Chris Sommers, KeySight
Mihai Budiu, VMware
Shir Landau-Feibish, Open University of Israel
Alan Liu, Boston University

Amedeo Sapio, Intel
Muhammad Shahbaz, Purdue University
Anirudh Sivaraman, New York University
Robert Soule, Yale University
Sponsors
---
Gold Sponsors

                      .

Silver Sponsor
A Message from Our Sponsors
---

Google has pioneered Software-Defined Networking (SDN) in data centers for over a decade. With the open sourcing of PINS (P4 Integrated Network Stack) two years ago, Google has ushered in a new model to remotely configure network switches. PINS brings in a P4Runtime application container to the SONiC architecture and supports extensions that make it easier for operators to realize the benefits of SDN. We look forward to enhancing the PINS capabilities and continue to support the P4 community in the future.
---
P4 is here to stay. It started with programmable Ethernet switches and is scaling through IPUs and FPGAs.  Direct support of P4 within the Linux kernel is another important use case we see emerging.  As an unambiguous way of specifying requirements, the future for P4 is bright and our commitment & investment at Intel is continuing to grow.
Please visit: intel.com/ipu 
---

A leader in programmable network solutions for 5G, Segment Routing, Packet Brokering, Visibility, and Service Programming, NoviFlow's solutions leverage the flexibility and features of P4 to deliver load balancing, service chaining, packet redirection and filtering directly in the switch, reducing costs, easing service insertion and enabling elastic scaling to multi-Tbps.