ONCon Asia 2019
Jul 22, 2019 to Jul 23, 2019 | Infosys Campus, Electronics City, Bengaluru, India
A Premier Developer & Executive Event in India by Infosys and the Open Networking Foundation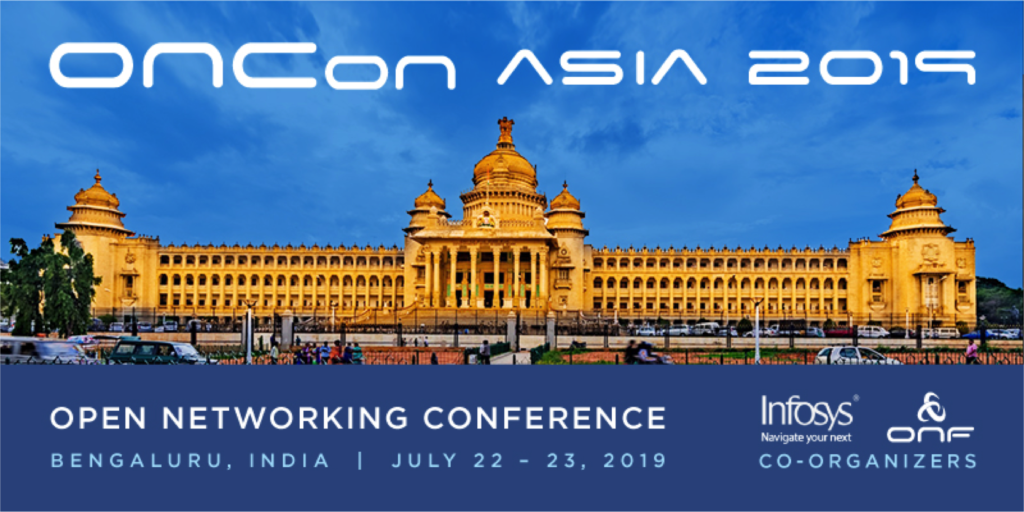 Open Networking Conference Asia (ONCon) 2019 is the premier event in Asia evangelizing the Acceleration of Network Transformation through Open Networking Software. The conference provides a platform for the networking technology ecosystem and the open source community to come together and engage in knowledge sharing through Tech Talks, Training Sessions, Workshops, Panel Discussions and Plenary Keynotes by Technology and Industry Leaders.
Agenda
July 22nd (Day 1): Developer Conference with a variety of sessions designed to spark creativity and promote ONF platforms with a focus on Converged Multi-Access Edge and Next-Gen SDN solutions that are driving innovation in 'Networks of the Future'. An Open Hack Challenge will be held to promote building network applications using open platforms and winning teams will present and demo their solution on the main stage on Day 2 of the event.
July 23rd (Day 2): Executive Conference with keynote sessions from Industry Leaders and Technology Experts providing innovations and insights into Open Source Networking Technologies and market dynamics. A Tech Showcase will be featured on both days to highlight the latest open source solutions powering next-generation networks.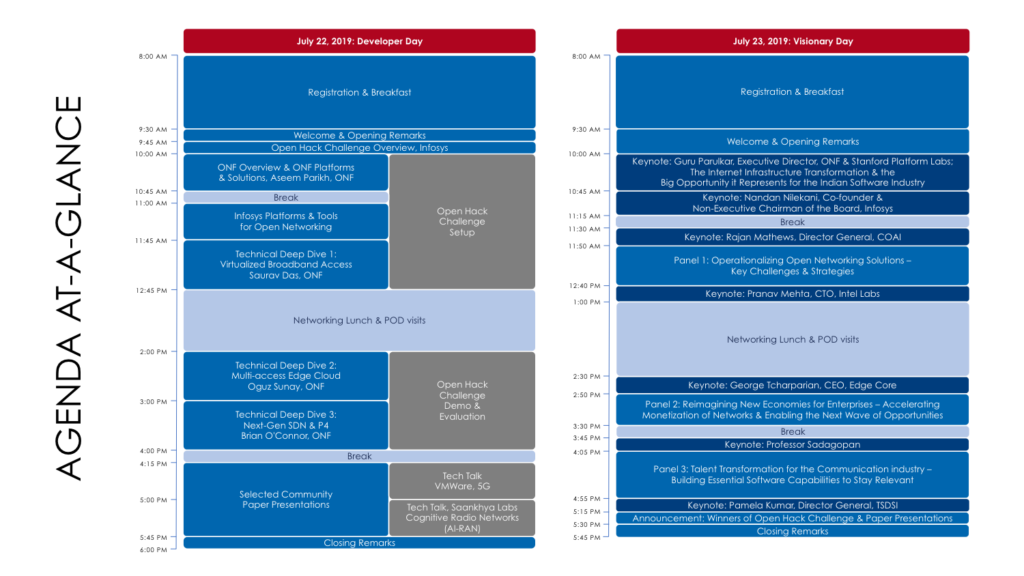 If you are a Technology Service Provider, Technology Equipment Manufacturer, Telecom Operator, Technology Start-up in the Telecom Domain or a Developer interested in Open Source Networking, then this is the conference you must attend.
The event is free without admission and ticket charges. Online registration is required, but does not guarantee admission; due to limited space, registrants will be vetted. For more information, please see our FAQs
---
Open Hack Challenge
Re-imagine the Network using Open Platforms
An event for creatively building network applications using open platforms to motivate the developer community in India. Below are the six themes identified for the Open Hack Challenge.
| CATEGORY | DESCRIPTION |
| --- | --- |
| SDN Programmable Network | Leverage open source platform, SDN Controller such as ONOS, ODL for implementing programmable networks. Feature addition or enhancement using existing ONOS application |
| Open Silicon native SDN NFV Transformation | Solution based on advancements in hardware and embedded system domain for efficient utilization of silicon layer and architectural advancement for effective utilization of HAL in White Box, Grey Box & Brite-Boxes by silicon vendors |
| 5G | 5G strategies to leverage 5G virtualization at the core using network slicing to support multiple networks over one physical infrastructure, 5G Virtualization at edge namely, the virtual partitioning of mobile radio access network (RAN) for services underlying use cases such as IOT, streaming video, remote health care etc. |
| Cloud, Data Center, Edge Computing | Innovation in SDDC, edge computing & leveraging cloud based economy such as cloud connects distributed security in cloud environment, edge computing for zero latency use cases |
| Smart N/W, Operational Excellence | AI & Smart networks, extending benefits of AI & ML for faster RCA's , use of big data for improving customer experience & reducing cost of operation & maintenance |
Participants can use any reference architecture or exemplar platform from ONF or equivalent open platforms and build a use-case. For example: "Application aware dynamic routing using ONOS segment routing engine". Each team can have a maximum of 4 participants.
Participants to provide a brief (600 words) of the idea by 28th June, 2019. Shortlisted teams shall be notified to proceed with the demo implementation.
Teams will be provided access to ONF Community resources and slack-channels established for Open Hack Challenge with access to SMEs from ONF and Infosys.
Teams will have to present their solutions on 22nd July, 2019, at Infosys Campus, Bengaluru. Teams are expected to carry their own hardware and software for the competition. Open Internet access will be provided at the venue. Participants can setup their demos during the first half of the day.
On Day 1, 22nd July, 2019, we will have the evaluations based on live demo and presentation during the second half of the day. Each team should also prepare a business / technical pitch presentation (not exceeding 3 slides) to showcase their solution approach and final outcome.
The winners will be announced during the Executive Conference on Day 2, 23rd July, 2019.
Please submit your nominations to openhack_onca19@infosys.com. All participants must register by clicking the registration link below.
---
Paper Presentation
Ideas for creating an Open Networking World
We are happy to invite scholars and industry practitioners for a paper presentation associated with the first Open Networking Conference Asia 2019, with fresh ideas and thoughts on open networking. The paper is also intended to bring out and share industry best practices and learnings in open networking.
Here is a list of topics for the Paper Presentation
Software Defined Networking
Intent Based Networking
Network Function Virtualization
SD WAN
Software Defined Data Center (SDC)
Green Networking
5G
Virtual RAN/Cloud RAN
Virtual Packet Core
Virtualized Access Network
There are three steps involved in the selection process:
Abstract Based Selection

Authors are expected to share an abstract, including title of the paper, authors' names, organization, email ID, contact number, affiliations and acknowledgement (if any), in not more than 600 words (MS-Word Format). Each entry can have a maximum of 3 authors.

The abstract should reach callforpaperonca19@infosys.com on or before 25th June, 2019. The selected authors will be informed by 28th June, 2019. All participants must register by clicking the 'Register Now' button below or by clicking here.

Final Paper Selection

The authors should submit the final papers as per the IEEE template. The final papers should reach callforpaperonca19@infosys.com by 30th June, 2019. The selected authors will be informed by 8th July, 2019.

Paper Presentation

The selected authors shall present (not more than 5 slides) to a judging panel on 22nd July, 2019. Each presentation will be for 15 minutes. Winners will be felicitated post presentation.
Contact us at enquiries_onca19@infosys.com if you have any questions.