In this community member profile, we would like to introduce Nandita Dukkipati, a Principal Software Engineer at Google Inc., based in Palo Alto, California, USA.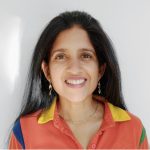 Nandita is a researcher and practitioner in the Industry with a multi-year record of fundamental contributions to Congestion Control, Telemetry, Transports, NIC design, and Host Networking. Nandita's research and engineering leadership has had a huge practical impact and helped set the agenda for academic research – several of her contributions are central to how Google runs its network transports. She is one of the top researchers in this domain and has most recently served as the co-chair for SIGCOMM 2021.
Nandita received her Bachelor of Engineering degree from Birla Institute of Technology and Science, Pilani, in India. She then continued her Master's studies at the Indian Institute of Science, followed by a Ph.D. degree from Stanford University in Electrical Engineering.
Nandita is part of a larger Host Networking team that builds world-class networking stacks, congestion control and transports, some examples of which are Snap, Swift, Andromeda, and PicNIC. Nandita and the team at Google are working on next generation NICs to power RDMA and low latency networking. In the context of P4, Nandita is interested in bringing a higher degree of programmability to transports and NIC pipelines. Programmability in NICs for Congestion Control & Transport is a talk given by Nandita and Konstantin Weitz on the possible ways in which P4/programmability can be incorporated into Congestion Control.
When not working, Nandita loves running and hiking with her family in the numerous trails of the beautiful San Francisco Bay Area. Traveling and visiting museums help feed her creative juices, serving as reminders on how creative man has been through the course of history. Nandita loves painting and is amazed at the parallels between building great systems and creating beautiful art.