We want to take a moment to highlight people and contributions that are making a substantial difference across our amazing communities.
Table of Contents
Ambassador Program
COMAC+OMEC
Developer Relations
NEM/FCAPS/XOS
NG-SDN
ODTN
OIMT
ONOS/µONOS
OTCC
SEBA/VOLTHA
Stratum
Trellis
Ambassador Program
Have you considered representing ONF at various industry events? Do you like presenting to and mingling with like-minded people to advance the mission of ONF? If yes, why not join the ONF Ambassador Program. Check out the details here. We support our ambassadors participating in industry events representing ONF, check out the budget request details here. For a list of recent events by our ambassadors, click here.
Most recently, we welcomed two new ambassadors:

Łukasz Łukowski works at Edgecore Networks as the VP of Sales and Channel EMEA. He is based in Poland and speaks English and Polish. He has recently been focusing on the telco edge solutions;
Xin Zhe Khooi works at the National University of Singapore as a Research Assistant. He is based in Singapore and speaks Mandarin, English, and Malay. He has recently been focusing on the ONOS project.
COMAC+OMEC
Finished the first stage integration with FOSSA for OMEC (for each repo of OMEC on github). The second stage in the future is to automate this work with jenkins.
Implemented new Accelleran CU Helm chart to service ONF private cellular network (called Aether) on CBRS band (Band 48). The new CU can service multiple CU-DU pairs, which was not possible with the old Accelleran CU Helm chart.
Opened COMAC QA brigade. The brigade covers all QA tasks for COMAC. We implemented COMAC daily build tests with Jenkins and COMAC-in-a-Box. Recently, we started to make more Jenkins test scripts.
Dynamic config update is now supported in MME. This is done through helm for Kubernetes deployment. Plan is to do similar thing for SPGW.
Integrated S1ap automatic parser code in the MME. This helps in quickly adding new s1ap messages in the MME code.
Started designing platform to manage mobile service workloads running in multiple k8s clusters in hybrid infra. Done evaluating some popular tools and services(managed k8s services from cloud providers, cluster-api, KubeFed, Rancher) as part of the task.
Centralized monitoring of multiple data centers with additional Grafana dashboards for Aether is added.
Started deploying Central cluster in GCP and the first edge in Menlo.
From OMEC community:

Hariharan and Anjana from Infosys added DDN( Downlink Data Notification ) feature and GTPV2Stackm, under integration now.
Muhammad Asim and Saikrishna from Intel started working on single CP and multiple DP new feature.
Vikram and Amit from GS Lab contributed the paging feature to MME, under integration now.
Developer Relations
We wish to thank Mary Thengvall for her contributions to ONF DevRel. She has transitioned her work to Ain Indermitte and is starting a new full time role - we wish her well!
We recently updated our Code of Conduct; please take a moment to review it. It is also posted on ONF website and all development sites like Jira, GitHub, Gerrit.
In November we started our infrastructure renewal project where we are consolidating various tools like Crowd, Wiki, Jira, etc. into single ONF instances. This would simplify on-boarding and getting started for our new community members and streamline various processes for our existing members. Unfortunately one side effect of this is that for some of you your existing username and/or password will change. We will inform you (or already have) if this is the case, and apologize for any inconvenience caused. 
SEBA Surge is in full swing and we are working with the community participants to re-energize the SEBA community and improve productivity.
We completed developer on-boarding survey with SEBA Surge community members. 14 of you provided us with valuable feedback. The four areas of improvement that stood out can be summarized as follows:

Create a mentorship program for new community members;
Docs need to be organized, versioned, and kept up to date;
Everything must be linked to enable members easily find information; and
Implement tags/flags on open issues and bugs to denote which tickets are accessible to newcomers. [Actually, the label "starter" already exists for this exact purpose, however we have to improve its usage.]
For full details, please see the summary document here.
ONF team (Brian and Charles) presented a Stratum Developer Tutorial during the Open Source Networking Days event at NCTU, Hsinchu, Taiwan.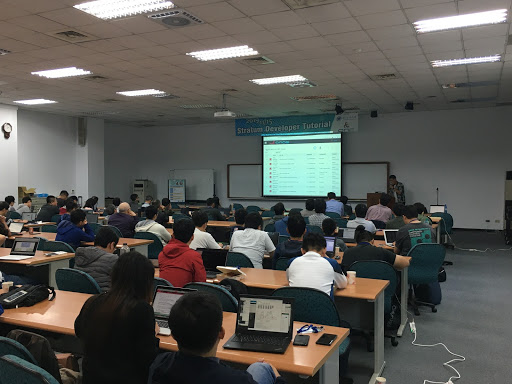 NEM/FCAPS/XOS
Dinesh Belwalkar (Edgecore) completed implementation of an API for managing the Redfish Importer.
Ganesh Bhure (Sterlite) implemented functionality in the Kafka Topic Exporter to publish statistics from the Redfish importer to Prometheus.
NG-SDN
The ONF team (Yi, Max, Brian, Carmelo) delivered a number of NG-SDN tutorials around the globe, featuring P4, Stratum, and ONOS:

ONF Office, Menlo Park, CA, USA
Princeton University, Princeton, NJ, USA
Open Source Networking Days 2019, Melbourne, Australia
Code and slides are online.
ODTN
ODTN and its community participated at TIP summit with a demo of ONOS integrated with the GNPy optical planning and simulation tool from TIP and Czechlight fully disaggregated ROADMs. Thanks to the GNPy team from TIP and the folks ad CzechLight, in particular Jan Kundràt.
Drivers for the Czechlight ROADM components were contributed by Jan Kundràt.
ONOS now leverages GNPy as an optical PCE, being capable of picking the best path according to GSNR value. GNPy. code was contributed by Andrea Campanella in collaboration with Jan Kundràt and the GNPy/PSE team, in particular Esther Le Rouzic from Orange, Gert Grammel from Juniper, Gabriele Galiberti from Cisco and Vittorio Curri from Politecnico of Turin.
ODTN has now the capability to manage OpenConfig Bit Error Rate thanks to a behavior, it's Cassini implementation and a REST API contributed by Sterlite, in particular Chetan Singh, Rohit Singh and Puneet Agrawal.
The FlowRuleProgrammable behaviour has been consolidated and now avoids code duplication by reusing an abstract class. This makes the code much leaner and simpler to maintain and debug, also assuring a better Openconfig compliance. Thanks to the team at Palc Networks, Kingston Selvaraj and Sudeep Desai.
A new ROADMCrossConnectCommand has been contributed by Ivan Eroshkin at Nokia, enabling ONOS to easily add and drop ROADM cross connections.
Bug fixes for Intents and Flow Rule Manager were contributed by Jan Kundràt and Ivan Eroshkin.
OIMT
Discussion occurred with ONAP/Redfish on linkage between DMTF Redfish and ONF work.

Introduced the basics of the ONF core model, the network model, the Component-Port pattern, Control Construct, Spec approach, Processing Construct, Constraint Domain, and position on network slicing.
Feedback received include resonance with the ONF slicing position, interests in the decoration pattern and spec approach noting that they were working with similar concepts in Redfish for the compute/storage space, challenge of specific proprietary solutions and the need for a generalized representation of these proprietary structures, and recognizing the synergy (some overlaps and some complementary capabilities).

In general, the discussion was positive in the direction to adopt the model pattern and base parts of their model solution on the ONF core model. Redfish will send a Liaison Statement to trigger more formal collaboration.
ONOS/µONOS
Yu-Shen Liu (NCTU) contributed support for handling P4Runtime default table entries.
Charles Chan (ONF) introduced the auxiliary locations in the Host abstraction, which allows to specify additional locations different from the ones where the host attaches to.
Carmelo Cascone (ONF) re-introduced support for building third-party apps using Maven for ONOS >= 2.2 and Java 11. After moving away from Maven (towards Buck and then Bazel) and with ONOS 2.0, the community stopped maintaining the onos-dependencies abstract POM. This contribution re-introduces the generation and publication of such POM file as part of the regular ONOS release cycle.
Pier Luigi Ventre (ONF) fixed a bug in the OFChannelHandler which was sending an echo request without flushing immediately the buffer; and improved OF southbound consolidating multiple OF messages into a single TCP write (this allowed to reduce the overhead in ONOS but also brought a lot of benefits in the devices as shown in this doc).
Jordan Halterman (ONF) fixed a bug in DistributedClusterStore for which an ONOS instance can incorrectly mark a peer as deactivated; added a CLI to force snapshots of the RAFT partitions; and fixed an issue causing data loss when RAFT nodes recover without persistent snapshots.
OTCC
TAPI

Arturo Mayoral (Telefonica) working on a Reference Implementation guideline document.
Andrea Mazzini (Nokia) chairing calls while Karthik Sethuraman (NEC) is temporarily out.
Appears to be interest from OIF in a Fall 2020 interop of TAPI control of partially disaggregated optical networks.

WT

Wireless Transport subproject is renaming itself 5G xHaul subproject.
Members are involved in an ONAP/O-RAN PoC in December utilizing OTCC/WT/OTIM work as well as OIMT and IISOMI core model and tooling work.
SEBA/VOLTHA
Multicast & Multi-TCONT Brigade

Carmelo Cascone (ONF) updated Mcast application to ONOS 2.2 and Java 11; and updated IGMPProxy application to ONOS 2.2 and Java 11.
Gamze Abaka (NETSIA) updated SADIS configuration to support Multi-Tcont on TT-workflow.
Esin Karaman (NETSIA) implemented utility functions for Mcast IP to Mcast MAC address conversion.
NETSIA successfully deployed Mcast feature of VOLTHA 2.x in labs at both Argela & TT headquarters and successfully tested Mcast feature with real OLT, ONU and RG devices.
Girish Gowdra (ONF) implemented support in voltha-lib-go/tech-profile module for right interpretation of InstanceControl attribute.

BAL 3.x Brigade

Girish Gowdra (ONF) fixed issue to build right GIT VCS version in openolt agent during compile time; changed openolt agent license to Apache 2.0 from GPL3; fixed packet trap from NNI issue; and consolidated minimum set of requirements for BAL debuggability.
Thiyagarajan Subramani (RadiSys) removed hard-coding for TM_QUEUE type and derive it from number of gem-ports in use; and fixed error logs in openolt agent to reflect the error codes as human readable strings.
Burak (Netsia) fixed a bug in openolt agent where it continues to probe for healthy MAC devices and does not give up erroneous detecting MAC device.
Amit Ghosh (RadiSys) fixed bug in openolt agent to handle error from Probing Device Capabilities.
Chaitrashree (RadiSys) fixed DisableOlt handling in openolt agent.
Yongjie Zhang (Furukawa) fixed handling of o_pbits classifier in openolt agent.

FCAPS Brigade

Marcos Aurelio Carrero (Furukawa Electric Latam) exported the status of the DHCPL2 Relay application on the ONOS events bus.

Carmelo Cascone (ONF) fixed javadoc generation of the ONOS apps that was not working with JDK11.
Stratum
Habeeb Mohammed (Inventec) contributed port mapping files for two Inventec Tofino-based switches: D10064(64x100G) & D10056(48x25G + 8*100G).
Abhilash and You (ONF) open sourced several example TestVectors (P4Runtime and gNMI test cases) for BMv2, Broadcom and Barefoot switch targets.
Trellis
Comcast and Infosys teams helped in the identification of various issues seen at scale; and validated the developed fixes in their labs.
William Davies, partner engineer from Infosys, joined Trellis team. He is working out of our Menlo Park office.
Daniele Moro (ONF) fixed a bug affecting the trigger of the double tagged hosts removal.
Charles Chan (ONF) fixed an issue in the emulation of the OFDPA pipeline (ovs-ofdpa) that was causing some packet not being punt to the controller.
Pier Luigi Ventre (ONF) did a bunch of stuff, including...

Improved the host programming through the use of multi-thread executor with host affinity. This allowed to parallelize the creation of flows and groups.
Improved installation of routes executing in multiple threads the programming of a route over multiple devices.
Improved link up handling through ECMP re-hashing. Re-routing is applied only if the re-hashing fails.
Fixed a bug in the removal of the filtering objectives which did not consider the transport VLAN used by the Pseudowires.
Added a logic in the OFDPA driver to remove TMAC Mcast flows when there are no more enabled ports.
Added coordination during host movements assuring that only the SR King will perform the update of the L3 unicast chains.