In this community member profile, we would like to introduce Michal Sewera, Cloud EPC Stream Lead at Deutsche Telekom, based in Bonn, Germany. He is an active contributor in the Open Networking Foundation's COMAC community.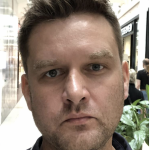 Michal is currently contributing as part of the ONF COMAC (Converged Multi-Access and Core) Community, working on Cloud Native Open Source Packet Core. He has been part of this community for over four years and his past achievements include industry's first deployment of a production-grade open source Evolved Packet Core (EPC) at Deutsche Telekom.
Michal earned his Masters Degree in Electronics and Information Technologies from the Warsaw University of Technology, and thereafter completed his Doctorate Studies in Management at the Warsaw School of Economics, Faculty of Management and Finance.
Michal has more than 18 years of experience in the telecommunications industry. For many years he was leading the EPC Shared Service Center team (hosted in Poland), focused on delivery of ePC engineering services in Deutsche Telekom. He was involved in early development of different Packet Core network related technologies, like DPI, HTTP & Video Optimization, IPS/IDS security solutions, and many others. In the last couple of years he has been focusing on ePC virtualization and cloudification topics as well as trials and pilots of the cloudified open source EPC platforms, cooperating with Open Networking Foundation and Intel Labs. His recent projects have been related to implementation and maintenance of the cloud based EDGE computing platforms supporting future low latency based 5G business models.
When asked about being part of the ONF Community, Michal said: "It is a great community of people sharing the same passion and vision of building the future production networks based on the open source concept. It provides me a fantastic opportunity to work with excellent engineers but also to learn and extend my knowledge in cross domain environments, like 5G, cloud platforms, and network acceleration technologies." As far as what ONF could do even better, Michal suggested ONF to focus on bringing open source software into production networks and building a stronger community with more operators using and testing its software.
While not working, Michal enjoys hiking in the mountains with his family, gliders, and modern physics. As a child, Michal learned to play the classical guitar and now says that if his dad hadn't bought him his first computer (which he is very thankful for) he would probably have become a guitarist instead of an engineer.