ONF launched Aether, the first 5G connected edge cloud platform built with open source components, back in March of 2020. Since then, Aether has been rapidly evolving with the addition of many new features, edge deployments and ecosystem partners. To keep you up-to-date with the exciting and fast-paced progress being made, we are planning to publish a series of blogs in which we will share insights into the world of Aether. 
Aether - a look back
Aether is a cloud managed open source offering that combines mobile connectivity and edge cloud services to create private networks for enterprise digital transformation projects. It is optimized for multi-cloud deployments and simultaneously supports wireless connectivity over licensed, unlicensed and the CBRS spectrum.
In December 2020, the $30M DARPA Project Pronto announced it will be using Aether as the basis for it's 5G software platform. Pronto is a collaboration between ONF, Cornell, Princeton and Stanford, with the goal of building an end-to-end 5G connected edge cloud on a secure fully programmable network enhanced with verification and closed-loop control. The university research enabling verifiable closed-loop network control will be integrated back into Aether, advancing Aether as a platform for secure 5G.
Aether Today
The Aether pilot network has been growing and is now operational with edge sites throughout the world.  Most recently, all the Pronto universities have been brought online as well: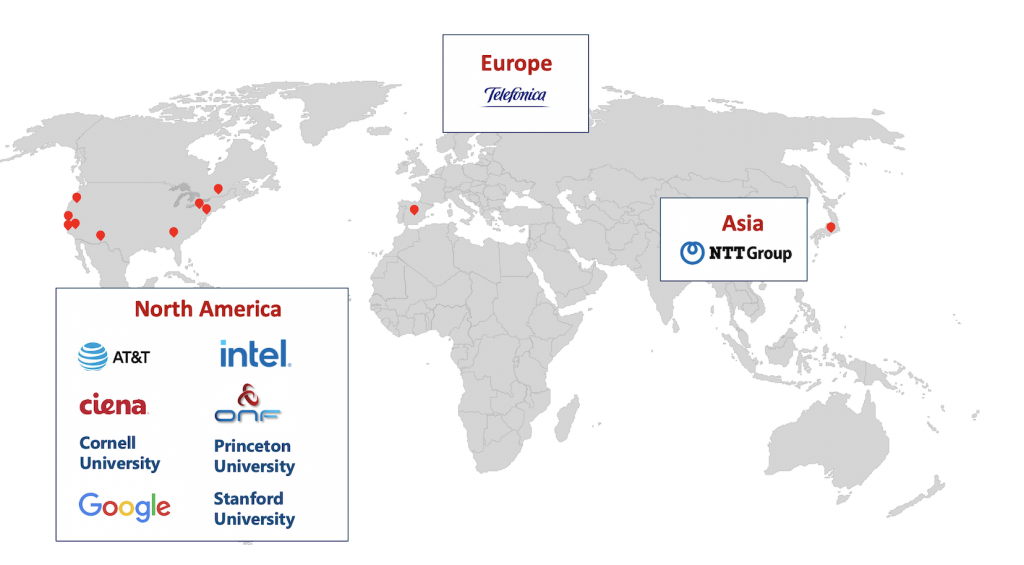 Aether has evolved into a comprehensive platform with more than 5M lines of code, with some impressive underlying capabilities:

The Pronto edge sites are fully programmable P4-powered deployments leveraging Intel's Tofino switching technology

The latest tools and processes have been implemented for multi-cloud automation that reduces deployment time from days to just hours.

Best-in-class cloud-native development processes are leveraged to enable rapid development of new functionality. This includes continuous testing at multiple stages of development, ensuring we achieve desired unit and system operations, performance, scale and high availability.

The automated CI/CD toolchain enables frequent updates to all components of the Aether stack allowing introduction of software patches and new features without service disruption.
We'll share more on the evolution of Aether as the project and ecosystem continues to expand. But until then, here's how you can learn more:
Aether Resources