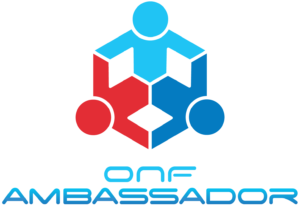 As ONF continues forward on its mission to transform the network operator infrastructure worldwide, in the African telecommunications sector there are few who are aware of and engaged in such open-source initiatives. In my 15 years of experience working with operators and within the academic sector, I realized that OpenFlow is the only ONF project that has some awareness. Other interesting ONF open-source projects related to mobile and broadband access, edge, and core transformation are still relatively unknown. Hence, this knowledge gap motivated us in organizing the first ever ONF webinar in Tunisia. We targeted telco operators in Africa and specifically in Tunisia to attend this virtual event held on February 17, 2021. The event included three speakers, two ONF Ambassadors from Tunisia, Akram Hakiri and Fatma Ghandour, plus Andrea Campanella from ONF. At ONF, Andrea leads the European cluster and is a member of the technical staff.
In the two-hour webinar we delivered three presentations - two in French, and one in English. We started with an overview of SDN/NFV concepts and followed with introduction to ONF's vision on revolutionizing the network based on cloudification, disaggregation, and open source solutions. We delivered a deeper technical discussion on three exciting ONF projects - SEBA, SD-RAN, and ONOS. The event attracted several operators in Africa such as Orange, Oreedoo and Inwi, as well professors and researchers from the academic sector. The feedback from the attendees was incredibly positive, and several individuals expressed interest in joining the ONF Ambassador Program.
This webinar was the first step in growing the ONF community in Africa and encouraging greater open-source adoption. It was of special interest to attendees that we demonstrated successful commercial operator deployments of ONF projects like SEBA. This was a great opportunity to educate a broad audience and encourage interest, participation, as well as labs and trials with ONF open source projects.
Fatma Ghandour
ONF Ambassador, Tunisia
Sr. Network Architect, PhD