It was great to be attending in-person at MWC Barcelona this year in collaboration with our community members: Deutsche Telekom, Intel, Netsia, Radisys and Türk Telekom. We experienced strong interest and visitors from around the world. Many thanks to the ONF community that really stepped up and participated in the planning and execution of this event and especially to the individuals that were on-site: 
Deutsche Telekom: Manuel Paul, Ruediger Kunze and Petr Jurcik
Intel: Anurag Rajan, Francesc Guim
Netsia/Türk Telekom: Bora Eliacik, Mesut Soyturk, Mustafa Ozden, Burak Gorkemli
Radisys: Nikhil Mur
ONF: Andrea Campanella, Daniele Moro, Raphael Rosa
The MWC ONF Pavilion hosted four kiosks: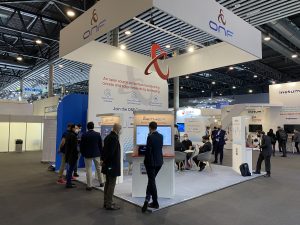 The SD-RAN community kiosk featured a demonstration of the ongoing Berlin SD-RAN Trial being hosted by Deutsche Telekom and interconnects components from over 8 vendors using the SD-RAN RIC, including Intel and Radisys. Three RIC use cases were demonstrated: Mobility Load Balancing (MLB), PCI-conflict resolution and KPI monitoring. 
Learn more about the SD-RAN project and kiosk sponsors; check out a video of the Berlin SD-RAN Trial!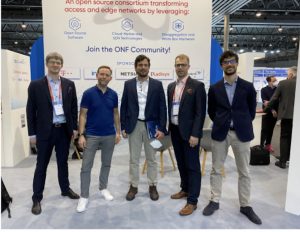 he VOLTHA community kiosk highlighted production broadband access network deployments at Deutsche Telekom (Access 4.0) and Türk Telekom with vendor support for these networks provided by Netsia and Radisys. 
Learn more about the VOLTHA project and kiosk sponsors.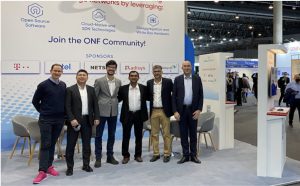 Aether is ONF's open source 5G Connected Edge platform for enterprises. In the Aether kiosk we unveiled a demonstration of our new enterprise portal used by the network administrator for configuring network slices and QoS, and providing visibility into network slice health, RAN status and connected device information. The portal is designed for ease of secure centralized visibility and administration of enterprise edge sites. 
Learn more about the Aether project.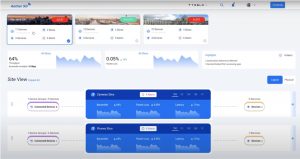 Aether Enterprise Portal

The Netsia kiosk featured their Netsia Broadband (BB) Suite which brings virtualization and SDN technologies to edge (Central Office) sites through standardized, carrier-grade, open source software and commodity white-box hardware.  Netsia BB is based on ONF's SEBA and VOLTHA, and is in a production broadband access network at Türk Telekom,
Learn more about Netsia's BB Suite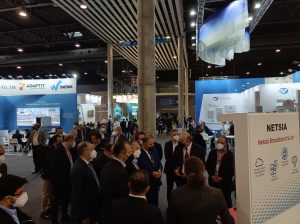 It was great seeing the ONF community coming together in person again, including Adtran, Amdocs, APS Networks, Arm, BiSDN, Deutsche Telekom, Edgecore, Eurecom, GSLabs, Infosys, Intel, Netsia, Radisys, Rimedo, STL, Türk Telekom, and Zyxel. It's been too long, and the value of getting together face-to-face was apparent to everyone. We're looking forward to creating more opportunities to gather our community again in the near future, and we'll update everyone as our plans take shape.