By Viren Khandal
On December 4 through December 6, 2018, ONF members from all over the globe congregated at the Santa Clara Marriott to participate in the first ever ONF Connect event, a unique operator-hosted conference which featured presentations from ONF's partners: AT&T, China Mobile, China Unicom, Comcast, Google, Deutsche Telekom, Telefonica, NTT Group, and Turk Telekom. ONF provided the hundreds of attendees with an enriching, one-of-a-kind opportunity to understand how the various services and projects of ONF fit together and how they contribute to the broader community.
The day commenced with Dr. Guru Parulkar's captivating introduction of the Billion+ Dollar Puzzle that revolves around operators' desires and needs to transform how they build their infrastructure and services. Dr. Parulkar went on to describe CORD's (Central Office Re-Architected as a Data Center) main architecture and, soon, the wide array of ONF's Open Source components, including XOS, ONOS, and VOLTHA.
I was impressed by the diverse services ONF provided, but was left wondering how each of the operators blended the various components to create a thriving ecosystem. My queries, however, were quickly answered after Andre Fuetsch from AT&T and Amin Vahdat from Google each clarified how their companies employed the services that ONF and the Open Source community produced.
These keynote presentations were followed by a plenary, in which AT&T representatives, Michael Gasser and Thomas Moore, announced that AT&T has launched the first SDN-enabled Broadband Access (SEBA) field trials in two cities with over 100 customers. I was enthralled to hear that some of ONF's services, SEBA in particular, had completed the POC and trial phase and were ready to be implemented in the real world. After being introduced to the function of ONF Connect and examples of ONF services in action, I was ready to learn about how open source contributed to all of these projects and the advantages/ disadvantages in using open source.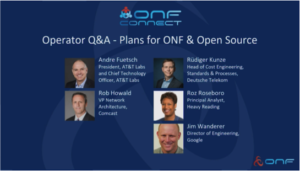 The Q&A session with representatives from the various operators elaborated on why open source has taken over the industry and how it will benefit the community in the long run. The rest of the day was split into various breakout sessions, each focusing on a specific operator or service to further discuss how the world's most advanced operators are guiding ONF's industry-leading efforts on edge cloud and next generation SDN.
This first ever ONF Connect event was an unforgettable experience to me and the hundreds of other members in attendance. I am very honored to be part of the ONF team and community which is truly transforming the worldwide networking ecosystem and is taking big leaps to incorporate open source with next generation networks and services to engender a thriving ecosystem. I look forward to attending and contributing at the next upcoming ONF Connect event, which will be held from September 10 to September 13, 2019 in Silicon Valley, California.