The power of globally connected SDN was successfully showcased across multiple continents via the latest Wireless Transport Proof of Concept (PoC) demonstration completed last November 2017. The project featured  integration of an ONAP-based, multi-layer multi-domain hierarchical SDN architecture.
The ONF's Wireless Transport group is part of the Open Transport Configuration & Control (OTCC) project driving the adoption of SDN architecture and principles for wireless transport networks. Mandates of the group include sponsoring the development of non-proprietary open source SDN controller (e.g. OpenDaylight, ONOS) managing multi-vendor wireless transport networks and coordinating them with other domains and layers, creating the definition and standardization of open interfaces and open source information models – and supporting the integration of information models into the open source ecosystem.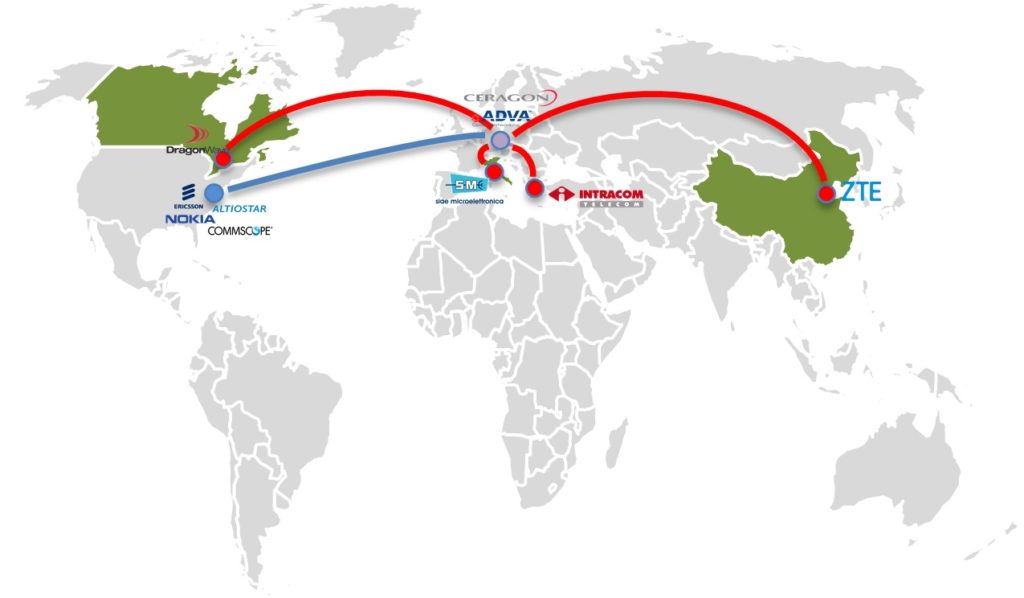 Recently, the Open Networking Foundation (ONF) Wireless Transport group successfully completed an important multi-vendor SDN Proof of Concept trial (4.1th PoC). This was organized as an independent part of an ONAP (Open Network Automation Platform) PoC, hosted by AT&T in cooperation with WinLab (Wireless Information Network Laboratory) research center at Rutgers University.
The ONF PoC focused on the wireless transport domain, while the ONAP PoC focusing on multi-domain multi-technology orchestration. ONAP is an open source platform for real-time, policy-driven orchestration and automation of physical and virtual network functions.
This most recent ONF PoC demonstrated the following objectives:
Verification of distributed (decentralized) cloud-based SDN architecture which significantly reduced work effort, preparation time and cost associated with organization of the PoC (trial); enabling fast development and testing, and fast and easy joining of new vendors and third-party application developers.

The real network devices were scattered all over the globe (located inside labs/offices in USA, Canada, China, and Europe) and connected to ODL SDN controllers via the Internet using secured OpenVPN tunnels.
In order to increase the resilience, the identical copies of the ODL SDN controller were installed inside five independent clouds representing different domains, and connected via secured tunnels to multi-domain ONAP orchestrator. A simple dual layer SDN network comprising several domain controllers and an orchestrator were consequently formed. Multi-layer and multi-domain hierarchical SDN solely based on open source models and open interfaces is our long-term target.
Implementation of the "Equipment Model" (in accordance with ONF Core Information Model v1.2) in order to provide equipment and inventory information from the devices to an orchestrator.

The inventory application retrieving and showing equipment information through ONAP's AAI (Active and Available Inventory) from attached devices via vendor-specific mediator and open-source SDN controller (OpenDaylight).
The mediator is a piece of software (integrated inside the device or running outside on a server or remote cloud) that translates standard Netconf/YANG into the device-specific proprietary language (e.g. SNMP) and vice-versa (the firmware inside the devices is not modified).
Integration of ONF Information Model TR-532 into ONAP orchestration architecture. Alarms, performance values and inventory information are provided to ONAP components.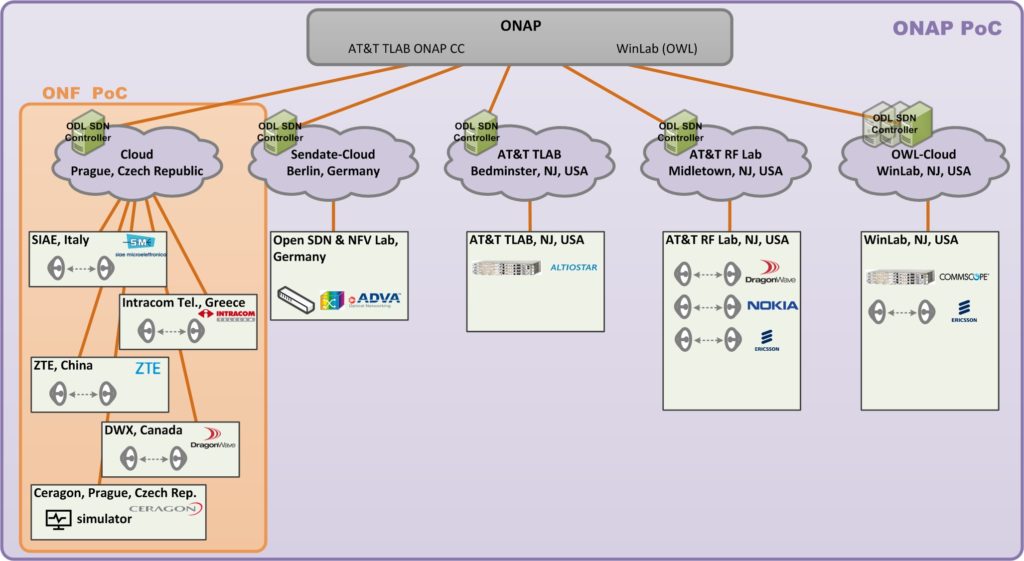 The PoC was a great success. This is in thanks to the companies participating, including: AT&T, Telefonica, ADVA, Altiostar, CommScope, Ericsson, Intracom Telecom, DragonWave-X, Nokia, SIAE Microelettronica and ZTE. Additionally, Ceragon, highstreet technologies and ZTE provided software components and integration.
Giorgio Cazzaniga & ONF Wireless Transport Group