This is part one of a two part blog about our Aether project, the first open source private 5G connected cloud platform for enterprises. This blog will give you a great overview of the current status of Aether as of the end of 2021, and the second blog will give you a view as to the community's plans for 2022.
Background
We are at the cusp of the next enterprise digital transformation with Industry 4.0.  Industry 4.0 is the "automation of everything" era – automation of manufacturing, machinery, and processes towards achieving higher quality solutions and operations with lower cost, and faster time-to-market. It is also the era of multiple clouds for enterprises. So, Industry 4.0 needs to deliver on this automation using cloud economics while ensuring enterprises are not locked into one cloud. Industry 4.0 solutions need to bring about faster innovation and be able to adapt to changes in enterprises' strategies, in where they are in their transformation journey, and in their physical environments.
Industry 4.0's closed-loop automation is software driven. The applications that enable this automation run from the enterprise virtual cloud that the enterprise owns and manages according to its own strategy. These applications leverage analytics from the physical environment collected via a group of connected devices and apply insights for automation by controlling a group of connected devices. This means that Industry 4.0's "automate everything" paradigm is only possible with a corresponding "connect everything".
Connectivity is at the heart of Industry 4.0. The software driven closed-loop automation needs software-defined connectivity – one that is programmable and adaptable. It also needs to enable consistently and predictably high-quality mobile connection, potentially at scale. So, Industry 4.0 needs software-defined 5G.
Then, applications, software-defined 5G connectivity and virtual clouds are interwoven in Industry 4.0, and hence need to be interoperable and be aware of one another's operational states so that Industry 4.0's automation is optimally beneficial for the enterprise. Specifically, the Industry 4.0 applications need to be made aware of the specifics of the 5G Connectivity and available cloud resources so they can optimally automate for Industry 4.0. In addition, service discovery tools need to be put in place for applications, cloud hosted 5G UPF and 5G connected devices to easily discover one another. And for every component of this architecture, it is the enterprise that needs to be in control.
With the Aether project, ONF has been developing and operationalizing an open-source Private 5G connected virtual cloud platform for the enterprise that is going through Industry 4.0 transformation – a top-down and end-to-end programmable 5G connected virtual cloud platform that is tightly integrated with the software-defined 5G solution that ONF's SD-RAN and SD-Core empowers. 
Aether Accomplishments
Aether aims to provide private 4G and 5G mobile connectivity and edge cloud services for distributed enterprise networks, all provisioned and managed from a centralized cloud. Based on open-source components and optimized for cloud deployments, it is easy to deploy, is highly scalable and is designed for rapid new service onboarding in a multi-cloud environment.
In Aether's multi-cloud architecture, all components that enable programmatic control of the RAN (with SD-RAN), the edge cloud fabric (with SD-Fabric) and the mobile core user plane (with SD-Core), as well as the local breakout are instantiated on the on-premises edge cloud. Running centrally, Aether's Management Platform enables centralized management of multiple edge cloud clusters, as well as operationalization tooling – monitoring, alerts, logging platforms, and automated CI/CD, GitOps and Infrastructure-as-Code toolchains, and portals that enable customizability. The central component also hosts Aether's Runtime Operational Controller (ROC) that enables top-down and end-to-end management and control of all 5G connectivity components, from RAN to fabric to core, for all customer deployments. ROC exposes rich set of APIs for multiple purposes: towards portal operations, towards AI-based closed-loop control applications that will optimize customers' connectivity experiences and simplify operations by conducting adaptation to potential changes in the operational environment, and also towards Industry 4.0 applications, bringing 5G connectivity awareness and control capabilities to them.
Aether is a highly flexible system that empowers various business models around private 5G/LTE enterprise networks that may involve, in addition to enterprises, one or more of the following: network operators, public cloud operators, vendors, system integrators and new market entrants.
Aether has been operational for approximately 18 months and has over 15 edge locations around the globe and has achieved multiple-nines availability. As part of this network, Aether is also enabling the on-going SD-RAN field trial in Berlin using O-RAN compliant, disaggregated, and programmable 5G small cells from the ecosystem.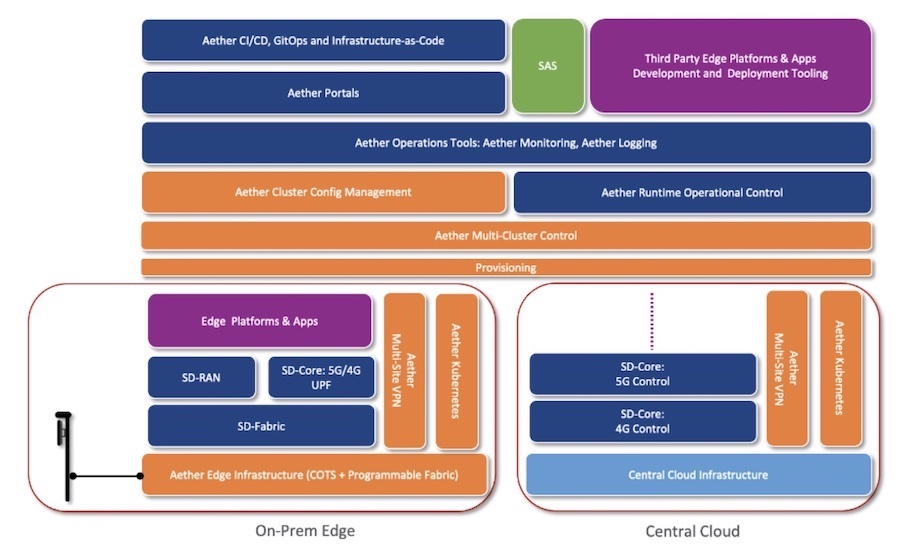 Figure 1: Aether Stack

In parallel, Aether is also the foundational platform for Project Pronto, the $30M DARPA project led by Stanford, Princeton, and Cornell Universities and ONF. 
The Pronto project supports the development of the basic building blocks of Aether (SD-RAN, SD-Fabric, SD-Core and ROC) and their programmability. Pronto participants actively build fine-grained telemetry, closed-loop control, and verification solutions around Aether's programmable architecture to enable enhanced resilience to unexpected microburst congestion as well as potential attacks, in the form of DoS and exfiltration attacks. 
A growing ecosystem is backing Aether, collectively supporting the development of this open-source platform that can serve as an enabler for digital transformation projects for the ecosystem, while also serving as a common platform for advanced research poised to help unlock the potential of the programmable network for more secure future 5G infrastructure.
Recently, ONF has spun off a for-profit Public Benefit Corporation, Ananki, with the mission to productize Aether and provide commercial support for its operation at customer sites. The projects will remain open, and companies are encouraged to consume and engage in the ONF open source projects. Ananki will augment this with a commercially supported private 5G offering, making it very easy for companies to holistically consume and build on 5G if they prefer to focus efforts on solutions leveraging 5G rather than on the underlying 5G components. Ananki will be contributing back to open source, and thus the two organizations are synergistic and will amplify each other.
================================
To learn more about what's coming next in 2022 and beyond, check out the next blog.