It was a very busy Summer and Fall as we look to finish 2021.  In early December, the ONF participated in the 3rd O-RAN ALLIANCE Global Plugfest with a talk, "Demonstration and Verification of Multi-Vendor O-RAN Architecture based on ONF Reference Implementation," which was presented by Raphael Rosa (ONF) and Nikhil Muraleedharan (Radisys). The slides can be viewed on the O-RAN Alliance wiki (slides 32-40); requires login.
About the PlugFest 
The  3rd O-RAN ALLIANCE Global Plugfest featured 77 companies at 7 venues that commenced last June. All the companies involved have performed testing, integration or proof of concept (PoC) throughout 7 venues globally. 
Technical work ended in November, with subsequent presentations of the results in the

Plugfest Virtual Showcase.

 

18 demos of O-RAN technology were prepared for MWC Los Angeles and O-RAN Virtual Exhibition.
The ONF's presentation highlighted the continuity of the SD-RAN Berlin Trial at Deutsche Telekom (DT) where we had two main achievements: 
5G E2E performance and functional testing: Uplink/Downlink Throughput, Multi-UEs tests, inter O-CU mobility (handover);

Near-RT RIC and xApp testing - Handover/Mobility Load Balancing: 5G SA inter gNB Handover coordinated by integrated xApps (from Facebook and AirHop) running on top of

ONF SD-RAN v1.2

.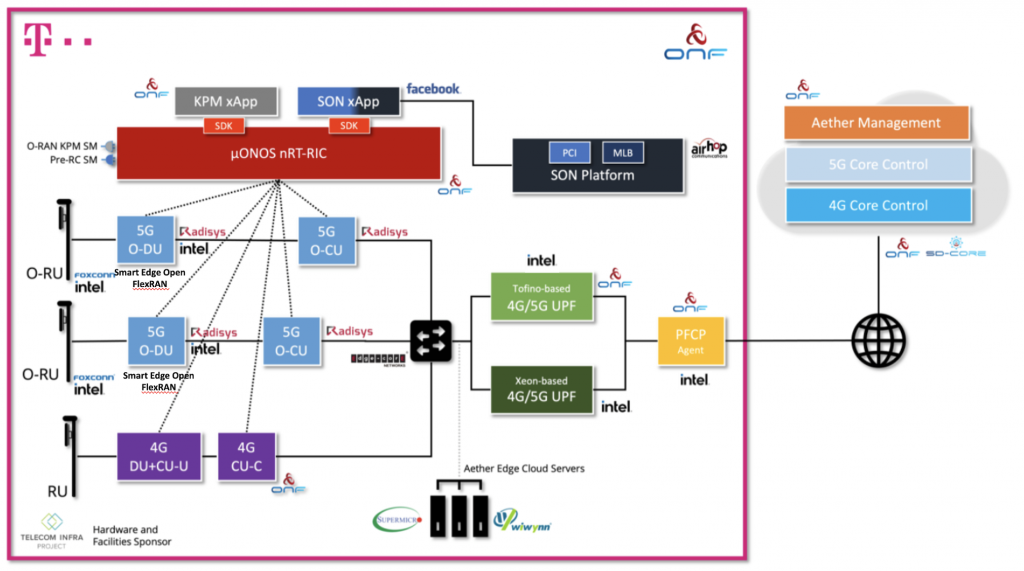 As part of the test we utilized ONF SD-RAN v1.2, supporting O-RAN E2AP v1.0.1, O-RAN KPM 2.0.3 SM and RC-PRE 2.0 SM. This SD-RAN trial at DT highlights the promise and flexibility of open RAN by integrating components from eight companies: AirHop, Edgecore, Facebook, Foxconn, Intel, Radisys, Supermicro and Wiwynn. Additionally, the Telecom Infra Project (TIP) is participating by providing hardware and facilities out of the TIP Community Lab in Berlin hosted by DT.
The O-RAN PlugFest benefits the telecom industry and highlighted the main challenges on bringing the infrastructure up from scratch, remotely and manual testing of hardware and software components, as well as the learnings related to the evolution of ONF SD-RAN project, the composition of the RC-PRE Service Model (by ONF, Facebook, Radisys and AirHop). It also included the replication of testing scenarios at ONF, Facebook and Radisys sites.
Visit the ONF website to learn more about ONF's SD-RAN project.