Editor Note: This post was contributed by Andrea Mazzini, Nokia; Lyndon Ong, Ciena; and Karthik Sethuraman, NEC
The Optical Internetworking Forum (OIF) has recently completed a rigorous interoperability test of the ONF TAPI v2.1.3 API as defined in the ONF Open Transport Config and Control project.  The testing was reported in a press release for the "2020 Transport SDN Application Programming Interface (API) Interoperability Demonstration".  The testing focused on SDN-based programmability, control, and automation using the Transport-API (TAPI) northbound interface between the orchestrator and the optical domain SDN Controller paired with the OpenConfig interface to open terminal devices in a partial disaggregation model as in the figure below.   An OIF white paper with detailed testing results has been liaised to ONF.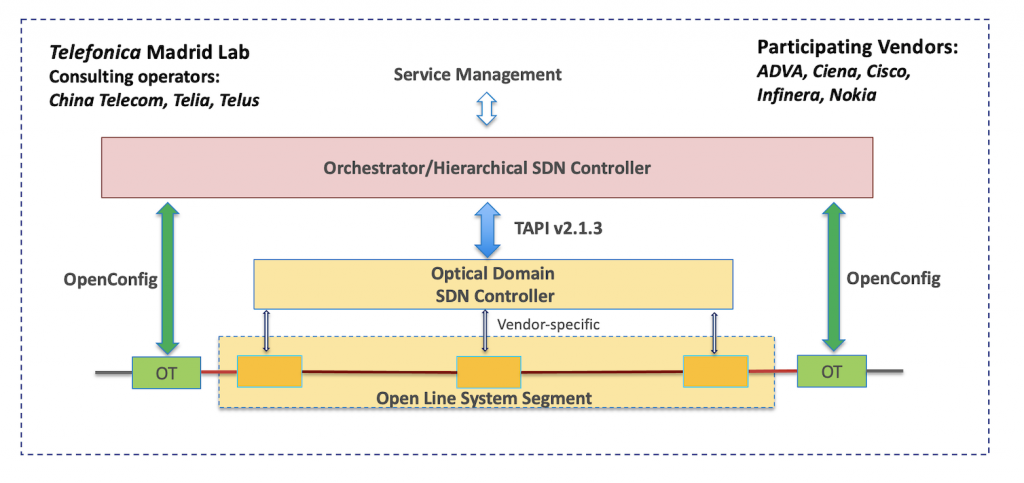 The interoperability demonstration built on a 2018 OIF interoperability test and demonstration, which "substantiated TAPI as the northbound interface (NBI) of choice for Transport SDN and established a foundation for open, programmable networks that allow network operators to efficiently deliver dynamic multi-domain connectivity services to the market". (Refer to the OIF 2020 Transport SDN API Interop Demo White Paper). For 2020, OIF used new operator-defined use cases and deployment scenarios in the host lab at Telefonica to test multivendor interoperability of Layer 1 OTN and Layer 0 OTN control using ONF TAPI v2.1.3 and OpenConfig APIs. 
The Interoperability Demonstration achieved its objective of evaluating interoperability for a partially disaggregated operator network using standard interfaces. Participants provided innovative virtual lab testing support to overcome resource, lab access, and communication challenges presented by the COVID-19 pandemic. Despite the challenges, participants supported (21) integrations between vendor solutions in (29) TAPI use cases and (31) OpenConfig operations over a 10-week testing period, relying on ONF TR-547, TAPI v2.1.3 Reference Implementation Agreement for test case requirements.
Findings and results of the testing indicated vendor products demonstrated a high level of maturity and support of operator-favored use cases, based on TAPI version 2.1.3.  OIF concluded in its white paper that, "Vendors have adopted the ONF TAPI 2.1.3 Reference Implementation Agreement (ONF TR-547) rapidly and with few deviations."  Other findings and results were identified for RESTCONF and OpenConfig implementation and have been liaised to the relevant SDOs.
According to OIF, testing showed the TAPI spec is at a mature level and will allow "all operators to adopt TAPI as a standard NBI in planning open optical transport SDN network deployments."  OIF found that continued enhancements to the TAPI specs will enable its accelerated, broad adoption.