COMAC to be key enabler for 5G deployments; Drives Seamless Service Delivery over Mobile 5G and Broadband Networks
MENLO PARK, Calif.  Feb 14, 2019 – The ONF, the recognized leader driving transformation of the networking industry via operator-led curated open source development, today announced the launch of the COMAC (Converged Multi-Access and Core) initiative. COMAC is aimed at delivering next-generation services over both mobile and broadband networks, seamlessly supporting subscriber management and a consistency of service experience regardless of access technology.   COMAC will make it possible to programmatically craft diverse network slices, combining various access and core technologies to support a wide variety of use cases, deployment options and service offerings.  To build such a platform, COMAC will leverage SDN and cloud principles to create both converged access and converged core capabilities as part of a holistic platform:
Converged Access: COMAC access architecture is build on disaggregated RAN (leveraging the O-RAN RU/DU/CU architecture), disaggregated mobile core, and disaggregated Broadband Network Gateway (BNG) components.  Elements from each are then redistributed and aggregated into a unified access layer, creating a SDN powered control plane and P4 powered user plane that each contain elements of the RAN CU, Mobile Core and BNG.  This reformulated and highly optimized stack can thus manage high-speed subscriber traffic regardless of a user's access link.  COMAC will offer different implementation choices for 4G & 5G RAN as well as PON, WiFi, DOCSIS and fixed wireless broadband connectivity.
Converged Core: COMAC integrates unified subscriber management, blending Mobile MME, HSS and BNG-Authentication and billing functions into a common platform that will enable operators to manage their user base as a unified whole rather than as distinct and isolated service offerings.
COMAC is also optimized for 5G deployments.  By disaggregating all elements and building on a microservice architecture, operators can dynamically place elements where they best serve their needs.  Access, edge, core or public clouds can work together in a coordinated way, with components and applications deployed close to users as required and centralized where practical to deliver an exceptional user experience while leveraging common infrastructure and public cloud economics. 
COMAC Reference Design
Leveraging ONF's Strategic Plan and ONF's Reference Design working model, a new COMAC Reference Design is being launched today for driving requirements, backed by ONF Operator Partners:
AT&T
China Unicom
Deutsche Telekom
Google
Türk Telekom
The COMAC Reference Design will specify the common requirements agreed to collaboratively by the ONF operators, and will provide a blueprint for an open source approach to address the space.
As with all ONF Reference Designs, the operator group commits to actively contribute, trial and deploy the platforms.  The Reference Design will also be used during procurements, with RFPs referring to the Reference Design as the authoritative reference for the architecture.
COMAC Open Source Project
As per ONF's Strategic Plan, each Reference Design is paired with an ONF Exemplar Platform (EP) - the open source work paired with the RD.  ONF's 'software defined standards' strategy is to advance both the RD and EP in parallel in order to circumvent the historical tendency to draft standards in isolation from working software.  The COMAC project announced today is launching with the support of operators AT&T, China Unicom, Deutsche Telekom, Google Cloud, Sprint and Türk Telekom and a supply chain ecosystem including: Adtran, Intel, Radisys, GSLab and HCL.
COMAC is building upon a suite of ONF Projects, all part of the CORD project umbrella.  Of note, COMAC is leveraging OMEC, a new open source project being announced in parallel today.  In all, COMAC will leverage a collection of both access and core projects.   Unification will enable greater infrastructure efficiencies as well as common subscriber authentication and service delivery capabilities so users can roam seamlessly between mobile and fixed environments while experiencing a unified experience.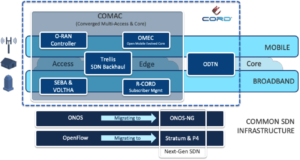 COMAC Demo at Mobile World Congress
A pre-release demonstration of the COMAC project will be featured at MWC in Barcelona February 25-28 at the ONF Booth in Hall 1, stand 1E11.  Collaborators EdgeCore, Intel, Infosys, Netsia, Acelleran, and GSLab have integrated additional technologies to help showcase an end-to-end solution integrating wireless and wireline support in a multi-cloud environment.  Click here to schedule a demonstration with the lead COMAC architects at the show in Barcelona.
Supporting Quotes
"Connectivity for users must evolve to keep pace with the rapid rate of cloud innovation. COMAC will enable microservices to run where they are best suited, whether in the public cloud or in close proximity to users. This important collaboration with the ONF will benefit operators with a seamless and agile infrastructure ultimately bringing rapid innovation to the end users." -- Ankur Jain, Distinguished Engineer, Google 
"5G technology is a profound technology shift taking place in parallel with a massive upgrade in broadband networks.  COMAC is on a path to become a pivotal piece of the edge network for operators, playing a very important role in the realization of next-generation infrastructure where enhanced mobile connectivity must be paired with broadband to support new use cases and the development of next-generation services." -- Oguz Sunay, Chief Architect for Mobile, ONF.
Further Details
OMEC and today's corresponding press release