Cassini combined with ONF's ODTN results in the first completely open source solution for Data Center Interconnects (DCI)
MENLO PARK, Calif. - March 5, 2020 - The ONF today announced that the Stratum™ open source switch operating system software is now available on Cassini packet optical transport hardware from TIP. This marks the availability of the first open source operating system for Cassini, a network switching platform with integrated optical transponders.
The Stratum thin switch OS is the industry's leading open source switch operating system for data center white box switches supporting next-generation SDN interfaces, including P4, P4Runtime, gNMI and OpenConfig. Recently, thanks to the participation of our community, Stratum's capabilities have been extended to support configuration and management of optical parameters including wavelength, modulation and optical power. These new capabilities enable Stratum to be deployed on the white box Cassini platform from TIP.
ONF's ODTN project has already demonstrated end-to-end orchestration of a network of Cassini-based systems in field trials. The demonstration leveraged the open source ONOS control plane from ONF and the open hardware from TIP; it also relied on proprietary embedded software running on the Cassini platform. Now, with the availability of Stratum on Cassini, a completely open SDN-native solution stack becomes available for addressing Data Center Interconnect (DCI) use cases. With the integration of Stratum on Cassini, ONF now offers the industry's first fully open, end-to-end optical transport solution, including open software, open hardware, open APIs, and YANG models. 
Cassini includes integrated Broadcom switching silicon and runs Stratum, which exposes P4Runtime and gNMI interfaces. Combining control and configuration capabilities from Layer 0 to Layer 4, Stratum controlled by ODTN can be deployed as a powerful platform for Data Center Interconnect (DCI) solutions, serving both as a spine for "leaf-spine" type architectures within the datacenter, and as a packet optical transponder for the inter-datacenter connections.
The ONF's end-to-end stack will be demonstrated during live webinars with the combined set of ODTN and Trellis applications deployed on the ONOS control plane and controlling a leaf-spine topology in a 2-spine by 3-leaf configuration for the main data center and a 2 by 4 for the edge site. The two spines of each location are Cassini devices with line side optics connected back-to-back.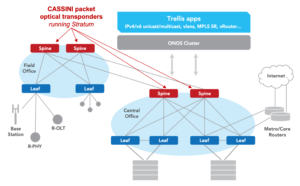 The four Cassini systems replace what would otherwise be 8 distinct devices: 4 spine switches and 4 packet optical transponder systems.  This converged design enables operators to deploy simpler solutions at a much lower cost, both in terms of Capex and Opex.
Learn More About ONF Solutions for DCI and Broadband Access
Please register to join one of the upcoming webinars, "ONF Open Source Solutions Enable Data Center Interconnect and Broadband Access". It will feature a demonstration of ONF's Stratum switch OS and an overview of some of the exciting new features of the latest Stratum release, including support for ONF's Trellis and ODTN solutions. In addition, will also demonstrate the integration of ONF's SEBA, a virtualized broadband access solution, and Stratum projects.
Webinar Registration Details:
March 17th

- 10am San Francisco, 1pm New York City, 5pm London, 6pm Berlin

March 18th

- 8:30am India, 11am China (March 17th, 8pm San Francisco)
Note: The content of both webinars will be the same, so feel free to register for the webinar that is more convenient for you.
Credit to the Community
ONF would like to thank all the collaborators that contributed to putting this solution together. PLVision contributed Stratum code to support TAI and expose new optical paths via gNMI. Edgecore and Lumentum contributed Cassini hardware and the ACO pluggable transceivers, and NTT electronics performed integration for TAI support in Stratum.
"NTT Electronics America is pleased to have been able to contribute towards bringing together and enhancing the ONF's ODTN and Stratum projects on Cassini hardware.  We see this as a powerful step forward toward making available open source optical transport solutions for operators." Wataru Ishida, Field Applications Engineer for NTT Electronics America, Inc.
"Edgecore Networks is very pleased to see the open community effort that has formed around creating an ecosystem for the Edgecore's Cassini Packet Transponder.  Emergence of a complete open source stack for a Data Center Interconnect (DCI) solution based on ONF software components, including Stratum and Edgecore's Cassini hardware is a major step forward for the industry," George Tchaparian, President & CEO, for Edgecore Networks.
"The ODTN can be considered an attempt to push SDN principles out of a familiar data center environment and apply them to wide area networks. Leveraging our solid expertise in open NOS integration, we are happy to join efforts with ONF to empower Stratum in bringing SDN advantages to optical equipment vendors." Leonid Khedyk, CTO for PLVision
About the Open Networking Foundation:
The Open Networking Foundation (ONF) is an operator led consortium spearheading disruptive network transformation. Now the recognized leader for open source solutions for operators, the ONF first launched in 2011 as the standard bearer for Software Defined Networking (SDN). Led by its operator partners AT&T, China Unicom, Comcast, Deutsche Telekom, Google, NTT Group and Turk Telekom, the ONF is driving vast transformation across the operator space. For further information visit https://opennetworking.org