rApp and xApp Provide Integrated Cell on/off Capabilities with Proactive Traffic Steering
Palo Alto, California - Oct 4, 2023 – ONF is pleased to announce that it has achieved its first milestone in the SMaRT-5G project with the successful demonstration of an intelligent cell on/off RAN energy savings application (rApp) that works hand-in-hand with a traffic steering application (xApp), ensuring quality of service while optimizing RAN energy consumption. These Integrated xApp and rApp applications, implemented entirely in open source, will first be demonstrated at Fyuz (October 9-11 in Madrid, Spain) in ONF's booth, #35.
"Energy Saving and Traffic Steering are two of the most important use cases for the mobile industry, and for the first time the ONF community has collaborated to create a single demonstration that combines these use cases in a unified open source solution," said Sarat Puthenpura, Chief Architect Open RAN, ONF. "The demo adheres to the O-RAN architectural framework by leveraging the ONF's SD-RAN platform which includes x/rApps, SMO, Non-RT RIC, and Near-RT RIC as well as  the O1/E2/A1 open interfaces to demonstrate the breadth and depth of the O-RAN compliant open source platforms now available."
RAN Energy Savings Demonstration
Components of the demonstration:
Rimedo Labs has developed the Energy Saving rApp (ES-rApp) and Traffic Steering xApp (TS-xApp) software applications that work together in a closed-loop to monitor and control the RAN as a cohesive system to achieve RAN energy savings, without losing quality of service
Near-RealTime RIC and the RAN Simulator (RANSim) are both integral elements of ONF's SD-RAN platform
Service Management Orchestration (SMO) builds on ONAP and the Non-RealTime RIC from the O-RAN Software Community (OSC), as optimized and packaged by ONF to create this integrated demo
Tietoevry has provided system integration support, including required O-RAN architecture interface implementation and x/rApp adaptations, in addition to test services, enabling this cohesive demonstration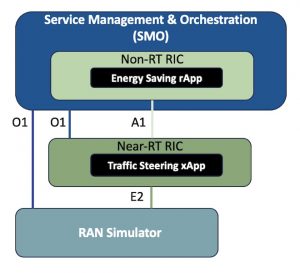 In this demonstration, the RAN Simulator simulates a working network supporting O-RAN specified interfaces, modeling two cells (cell-1 and cell-2) located in the same sector and providing overlapping coverage. Normally cell-1 and cell-2 share network load. The ES-rApp proactively monitors the load on both cells via O1 and determines if the capacity cell (cell-2) is underutilized and can be powered off such that cell-1 can take over the load without any performance degradation. If so, the rApp commands the TS-xApp via A1, to move the traffic served by cell-2 to cell-1 such that cell-2 can be idled temporarily, thereby making the cell a candidate for shutdown. The redirection of load from one cell to another is seamless and does not impact end user experience.
Once the xApp has completed steering all the traffic to cell-1, the rApp will subsequently shutdown cell-2 (via the O1 interface). The rApp will then continue to monitor the load on cell-1 and once cell-1 load is above a predefined threshold, cell-2 is reactivated via O1 and the load is rebalanced between the two cells ensuring performance is maintained and without impact to the end user experience.
"Mobile network energy consumption is a critical industry-wide issue and we are pleased to be collaborating with the SMaRT-5G community to introduce our innovative O-RAN enabled x-App/r-App applications," said Marcin Dryjanski, CEO, Rimedo Labs. "Currently, the typical scenarios use a single RIC application. In this setup, we focus on an rApp-xApp tandem and coordination between them to ensure the system is stable while enabling energy savings."
"We are excited to have facilitated the successful Integration and verification of this first phase of the SMaRT-5G project which offers a significant milestone in addressing an important mobile operator network challenge," said Mariusz Rudnicki, vRAN Ecosystem Sales Director, Tietoevry.
The SMaRT-5G Open Community
The SMaRT-5G project is focused on developing, demonstrating and open sourcing advanced intelligent energy savings for mobile networks. Initial collaborators include  Aira Technologies, AirHop Communications, Intel, Rimedo Labs, Tietoevry, Telecom Infra Project (TIP), and Rutgers WINLAB, and we invite more organizations to join this exciting community effort. If you would like to get more information, complete this form and project leadership will be in touch.
Additional Resources:
Attend Webinar to Learn More
SMaRT-5G community members will host a webinar on October 25th, 8:00am Pacific, that will offer an overview of the SMaRT-5G project and the rApp and xApp demonstrations featured at Fyuz. This event will offer the opportunity of live Q&As with project leads including Rimedo Labs and Tietroevry.  Register to attend.
About the Open Networking Foundation
The Open Networking Foundation (ONF) is an operator-driven, community-led non-profit consortium fostering and democratizing innovation in software-defined programmable networks. Led by its board members AT&T, Deutsche Telekom, Google, Intel, Microsoft and Türk Telekom, ONF is accelerating the state-of-the-art in open networking, catalyzing creation and adoption of open disaggregated solutions leveraging SDN and open source software. For further information, visit http://www.opennetworking.org
###
Media Contact
Denise Barton
Marketing Director
Open Networking Foundation
denise@opennetworking.org